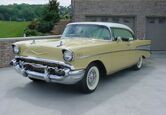 The 1957 Chevrolet Bel Air was first included in the fourth installment on Forza Motorsport series
The car was designed by Bill Mitchell and was the last of the Tri Five series(1955 - 1957). Production began in late 1956.
General Motors expected this car at the time to be the best selling car in 1957 however Ford would take the crown for the first time since 1935. The tubeless tires scared many potential customers away from Chevy vehicles and fords new innovative Skyliner helped boost sales.
The final tally, according to our trusty reference, the Standard Catalog (Krause Publications), was 1,522,406 for Ford versus 1,515,177 for Chevrolet, a difference of 7,359 units.
In 1958, Chevrolet would reclaimed the title of best selling car from Ford.
Today the 1957 Ford, with the exception of the rare retractable hardtop model, is not nearly as prized by collectors as the 1957 Chevrolet. While many Chevrolet's were turned into hot rods and street racers, one can still find restored original examples on the road.
In Forza Motorsport 4, this is a lower range class E car. Terrible acceleration, but a great cruiser and a good car to drive for fun. It has three gears, and top speed is just below 140 mph.
Since a lot of colors have been offered to this vehicle, only two of them are two-toned. Turquoise and shinny black. Both have a white top. All others are one color only for choosings. Many people offer to make vinyl groups for two-tones. Some sell them for a cheap or a fair price. Others do it for free (to share).