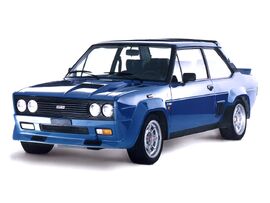 131 Abarth
Abarth
35,000 CR
Model year:
1980
Performance Index:
E 204
Drive Type:
RWD
Engine Placement:
Front
Basic Performance
SPEED
HANDLING
ACCELERATION
LAUNCH
BRAKING
Advanced Performance
Power:
140 HP (104 kW)
Torque:
130 lb ft (176 N·m)
Weight:
2161 lbs (980 Kg)
Front:
54%
Displ:
2.0 L
Power/weight:
142 HP per ton


106 kW per ton
Carlo Abarth is rightfully famous for applying the dark art of tuning to some of the most unlikely cars in the world—simple, robust, but decidedly unsporting Fiats—and creating legitimate giant-slaying racers out of them. This Abarth 131 is a homologation version of the standard Fiat 131, a relatively tame family sedan until fitted with a 2-liter, 16-valve, fuel-injected motor creating nearly 140 horsepower. Combined with lightweight fiberglass body panels sporting box flares and aggressive air scoops, the boxy coupe can scoot to 60 in less than eight seconds—incredible performance for such a small car developed during the 1970s. With independent rear suspension fitted by Abarth to boot, the 131 is perfectly suited for hanging out its ducktail-spoilered hindquarters on the tight, technical courses. This road version allowed the 230 horsepower rally version to dominate World Rally Championship racing between 1977 and 1980. With only 400 of the street cars ever produced, Forza Motorsports 4 is probably the best place to experience this diminutive Italian rally car on the road.
Photo shoot

Edit
Snap a photo of this car drifting around the Iberian Full Circuit in blue, on the 4th corner. This looks even better if you increase the colour brightness.
Paint glitch
Edit
If you put a small square vinyl on the driver's side headlight.it changes the tow hook