NULL CAR
Volkswagen
5,000 CR
Model year:
2000
Performance Index:
D 327
Drive Type:
AWD
Engine Placement:
Front
Basic Performance
SPEED
HANDLING
ACCELERATION
LAUNCH
BRAKING
Advanced Performance
Power:
201 HP (149 kW)
Torque:
199 lb ft (269 N·m)
Weight:
3212 lbs (1456 Kg)
Front:
58%
Displ:
2.8 L
Power/weight:
137 HP per ton


102 kW per ton

The NULL Car is a placeholder vehicle that is shown to players racing against a DLC car they do not own. Usually the easiest way to solve this is by downloading the free car from every available car pack. Unfortunately, Forza 4's Porsche Expansion Pack did not include a free car, and the only way to avoid seeing the Null Car is by buying the pack. The Null Car in Forza 4 is a blacked-out Volkswagen Jetta with no visible interior model.
On occasion, hackers/modders tend to manipulate the game to have this car in their garage.
This is the NULL Car, shown as being hacked into the Car Select menu by a Modder. It is shown to have it's own name and car stats, despite not being selectable during normal play.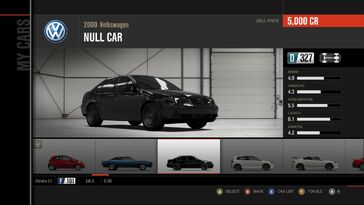 Community content is available under
CC-BY-SA
unless otherwise noted.